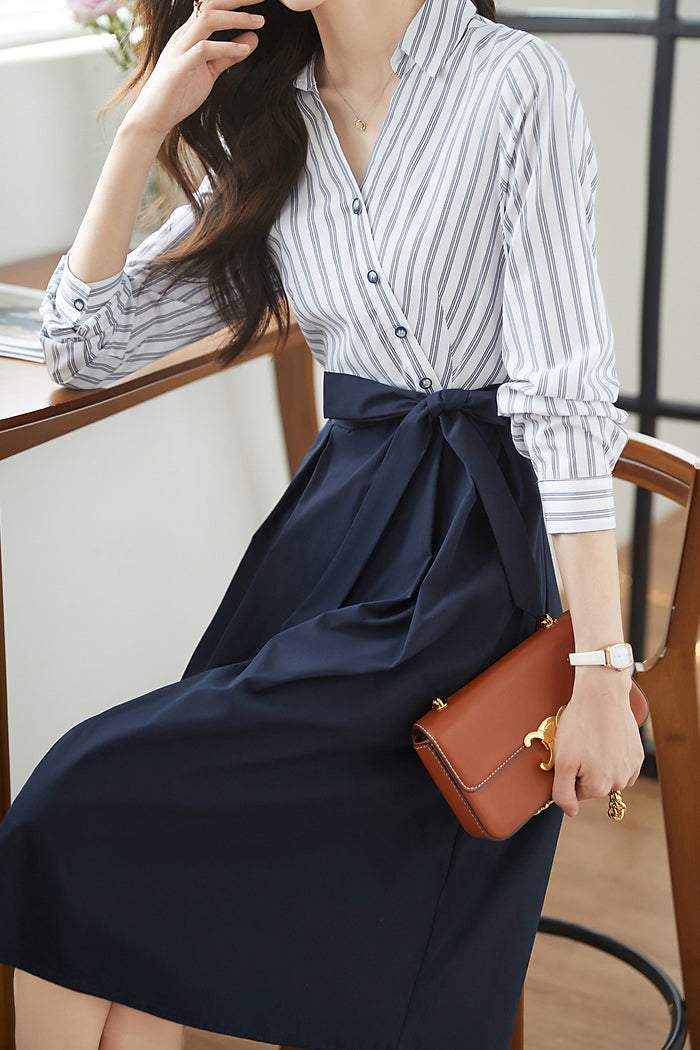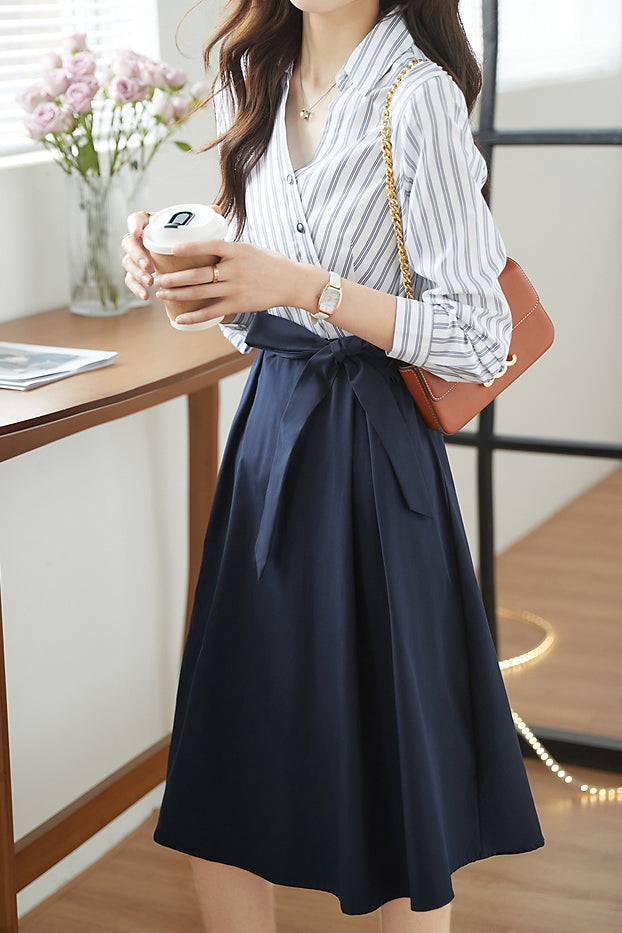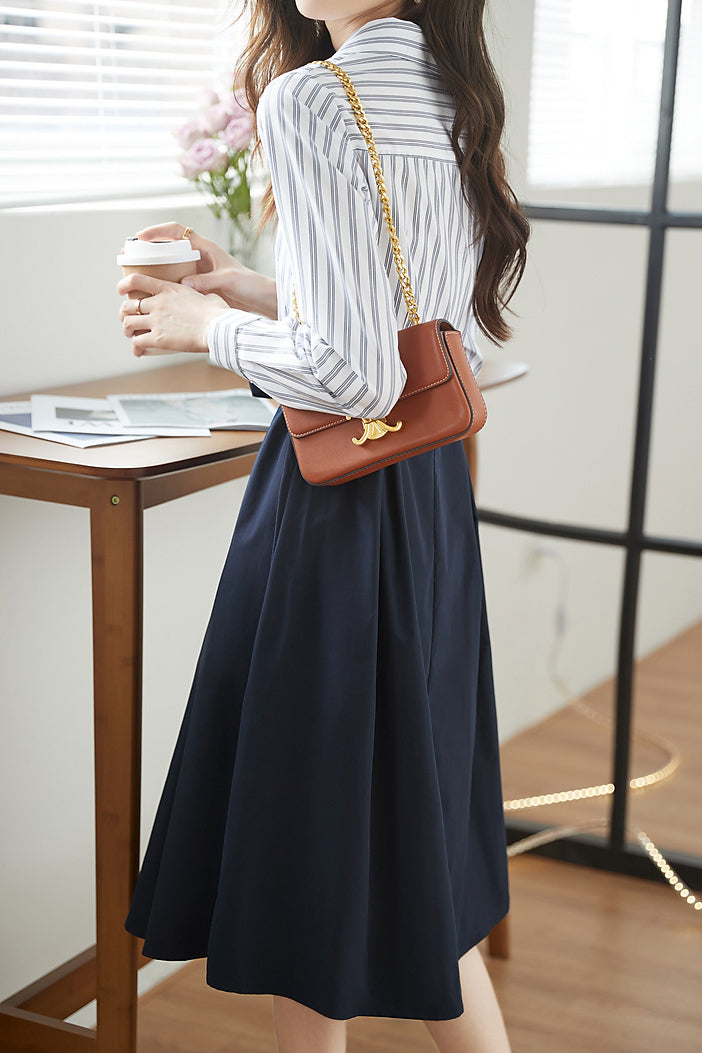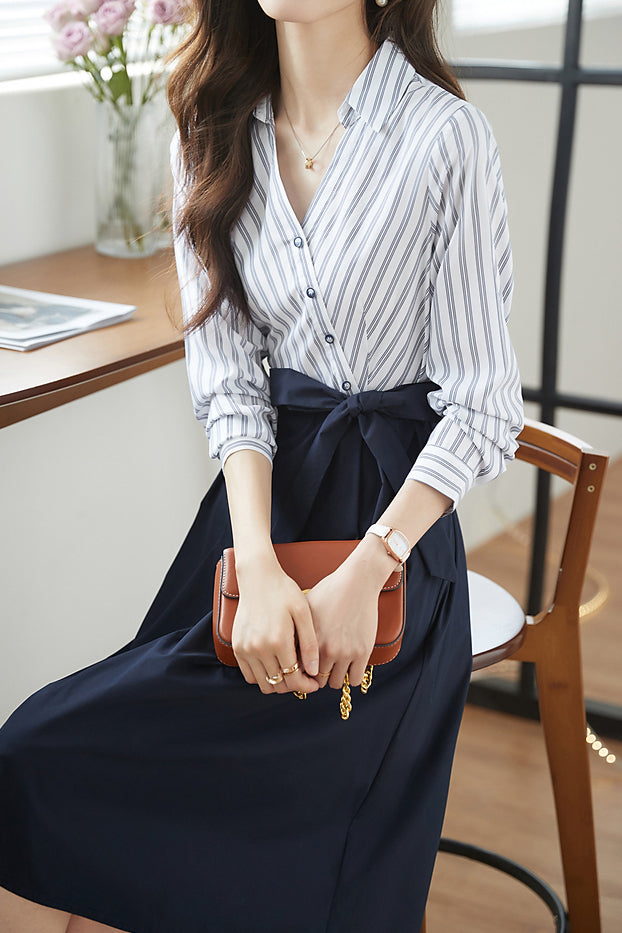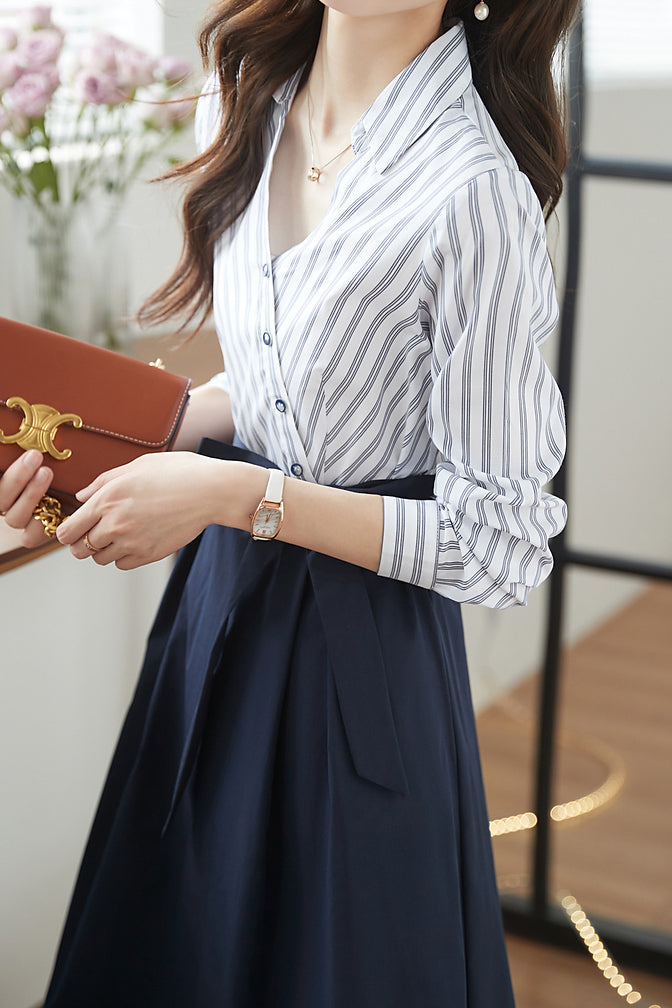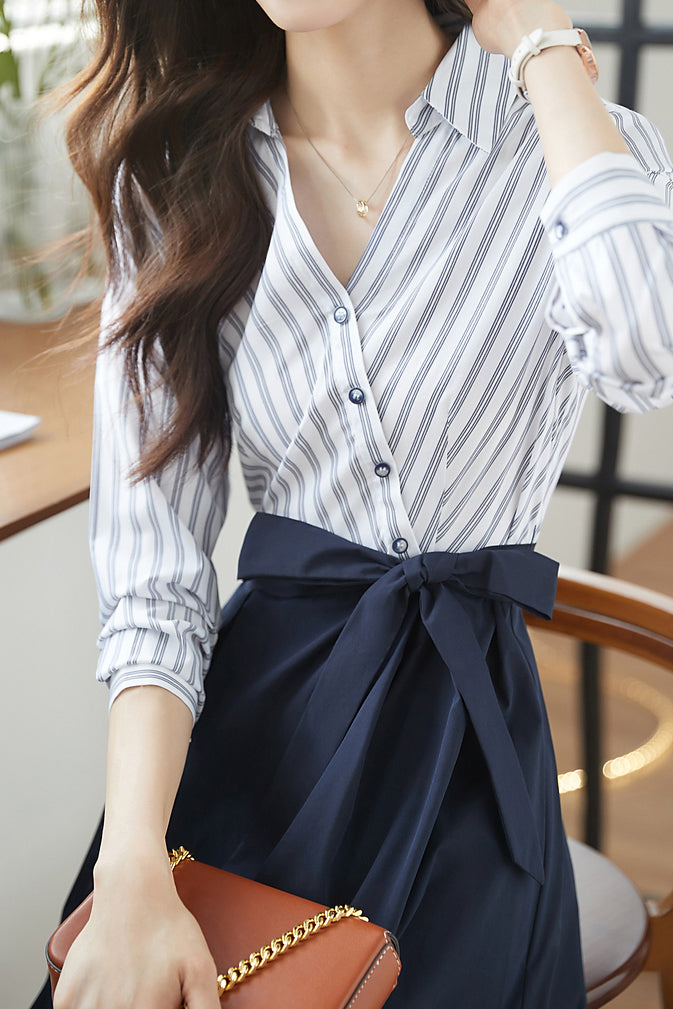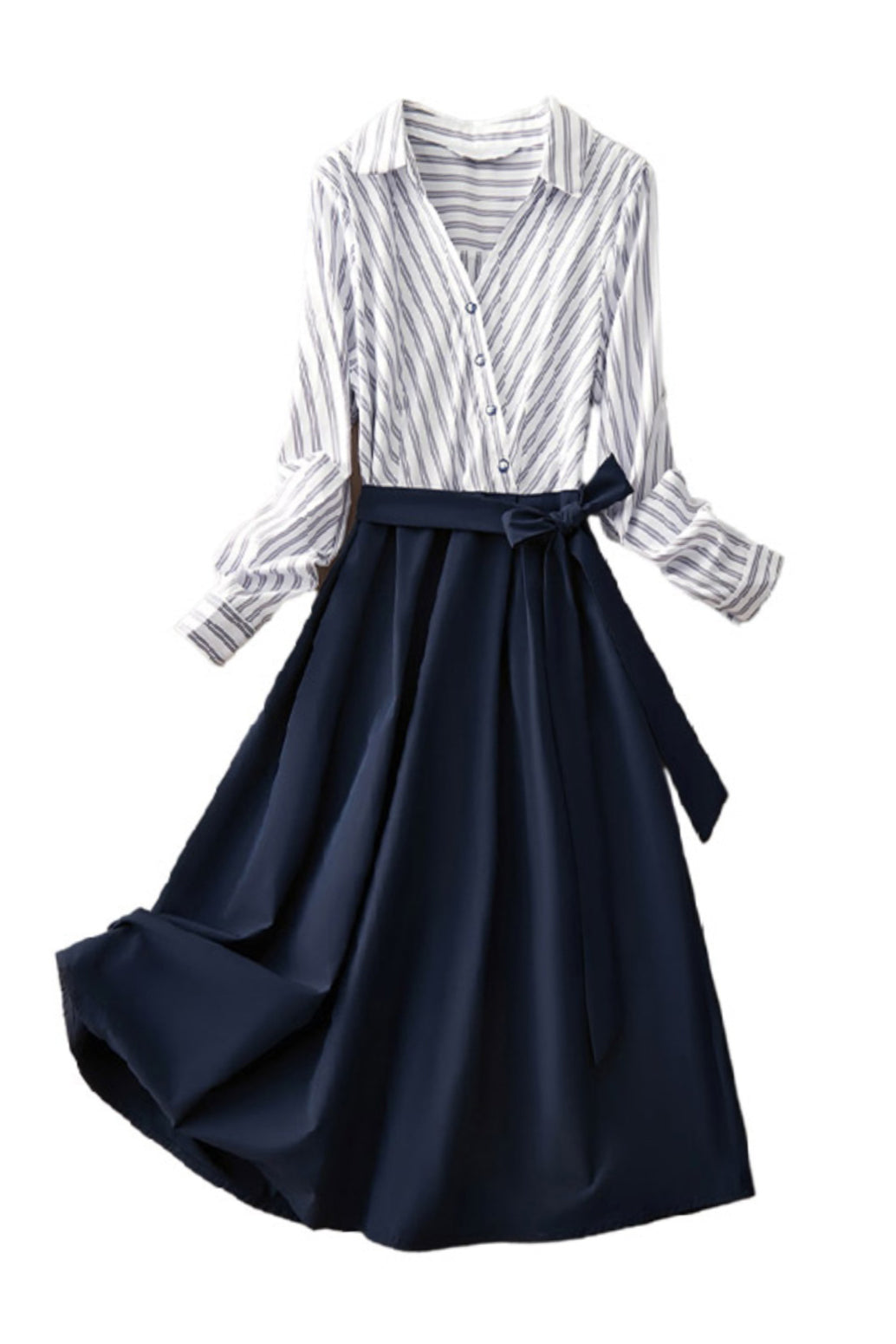 スキッパーカラーストライプドッキングロングフレアワンピース
Sale price
¥5,280
Regular price
¥5,940
SPEND 15000YEN SAVE EXTRA 5%
SPEND 45000YEN SAVE EXTRA 10%
SPEND 75000YEN SAVE EXTRA 15%

DESCRIPTION
SHIPPING & RETURN
PRODUCT REVIEWS
liwisiサイズガイド
素材

本ポリエステル100%

特徴

 

スキッパーカラー、ボタン装飾、ストライプ切替、カフスにボタンあり、長袖、ウエストにタックイン、ウエストにベルト付き、サイドコンシールファスナー付き、フレアシルエット、ロング丈

詳細情報

厚み:☑薄手 ☐普通 ☐厚手

透け感:☑なし ☐ややあり ☐あり

伸縮性:☑なし ☐ややあり ☐あり

光沢感:☑なし ☐あり

裏地:☑なし ☐あり

カラー

写真通り

種類

ワンピース

サイズ

S,M,L,XL,2XL
※撮影場所やお使いのモニター環境により若干お色味が異なる場合がございます。
※生産時期により色・素材・サイズ感など多少異なる場合がございます。予めご了承ください。
| | | | | | |
| --- | --- | --- | --- | --- | --- |
| サイズ | バスト | ウエスト | 肩幅 | 袖丈 | 総丈 |
| S | 88cm | 74cm | 37cm | 56cm | 105cm |
| M | 92cm | 78cm | 38cm | 57cm | 106cm |
| L | 96cm | 82cm | 39cm | 58cm | 107cm |
| XL | 100cm | 86cm | 40cm | 59cm | 108cm |
| 2XL | 104cm | 90cm | 41cm | 60cm | 109cm |
Free Shipping for orders over JPY7000
Delivery Time=Processing Time + Shipping Time
Processing time : Within 1-4 business days
Standard shipping: 6-15 days. Timeframe 
Items from LIWISI can be returned within 28 days after delivery. More information please check 
Amazing
I loved everything about this clothes. Super flattering. Super comfortable & color is great! The fabric is the perfect weight to give the clothes great structure and drape. Stretch is comfortable and flattering.
Very pretty and lightweight
Bought this to wear on a trip to Costa Rica. The material is lightweight and flowy, making it perfect for hot weather. The colors were vibrant. First time wearing a lace set and I loved it! I will be taking this outfit on an upcoming cruise!
Best clothes
I am obsessed with this clothes! Purchased for fall pics and it did exactly what I wanted it too! I got a small and it fit perfectly. Highly recommend you will not be disappointed. The colors are so pretty!
Perfect
Bought this clothes for a Sunclothes clothes party and I got so many great compliments. The clothes fits perfectly hugs all the right places and very comfortable with great length. Love this clothes.
Cute clothes that matches the picture!
I would like to say this brand is very good. The clothes arrived quickly and I received a response to every e-mail I sent in this process.
The clothes were also very nice, even though I only bought the smallest size, it was a little small for me, I will narrow it down. But overall very nice. Thank you again.
Liwisiでは下記の採寸方法により、採寸を行っております。お手持ちのお洋服のサイズを平置きの状態で測っていただき、各商品のサイズ表を参考に比較しご検討ください。なお、商品によって若干の誤差(1〜2cm)が生じることがございます。予めご了承ください。
一般的なトップスの採寸


肩幅(Shoulder Width) = 肩先から肩先までの直線距離。
バスト(Bust)= 両袖の付け根下の直線距離(バストは身幅x2です)。
袖口幅(Cuff Width) = 袖口の両端間の直線距離。
アームホール(Arm Hole)=肩先から脇の袖付までを直線で測った2倍の値。
裾幅(Hem Width)= 裾の両端間の直線距離。
袖丈(Sleeve Length) = 肩先から袖口までの直線距離。
裄丈(Raglan Sleeve Length)=バックネックポイントから袖口までの直線距離。
着丈 (Length)= バックネックポイントから、裾までの直線距離 (衿は含みません)。

一般的なワンピースの採寸


肩幅(Shoulder Width) = 肩先から肩先までの直線距離。
バスト(Bust)= 両袖の付け根下の直線距離(バストは身幅x2です)。
ウエスト(Waist) = ウエスト幅の直線距離×2。
ヒップ(Hip)=ウエストラインから約18cmほぢ下がったところを直線で測った2倍の値。
袖口幅(Cuff Width) = 袖口の両端間の直線距離。
袖丈(Sleeve Length) = 肩先から袖口までの直線距離。
身丈 (Length)= バックネックポイントから、裾までの直線距離 (衿は含みません)。

一般的なボトムの採寸


ウエスト(Waist) = ウエスト幅の直線距離×2。
ヒップ(Hip)=ウエストラインから約18cmほぢ下がったところを直線で測った2倍の値。
股上(Rise Length) = ウエストベルト脇の上端から内股合わせ部分までの直線距離。
股下 (Inseam)= 内股合わせから内股の縫い目に沿った裾までの直線距離。
裾幅(Leg Opening Width) = 裾の両脇間の直線距離。
ワタリ幅 (Thigh Width)= 内股合わせ部分の横幅の直線距離。
着丈 (Length)= バックネックポイントから、裾までの直線距離 (衿は含みません)。
一般的な靴のサイズ表
 

日本

 

22cm

 

22.5cm

 

23cm

 

23.5cm

 

24cm

 

24.5cm

 

EU

 

34

 

35

 

36

 

37

 

38

 

39